I'm so ready! Daffodils and hyacinth's are already popping up in Texas. It's fuel for the creative soul. I decided to surprise my mom with a new wreath.
I purchased a decorative plaque from a local craft store for a focal point. My favorite element is the lime green woven wire garland which was so easy to work with, I believe its from Raz Imports. I used it (and mini easter egg garland) in lieu of ribbon. Variegated ivy hangs from the bottom for a "window box" effect.
It came together in a snap. And mom liked it. I value her opinion. She's totally responsible for my creative genes. Especially when it comes to wreaths and home decorating. Love ya, mom.
This week it was so beautiful outdoors, I got a real hankering for one of my favorite childhood memories...feeding the ducks at Trinity Park. It was the first time I've bought white bread in almost a year. Hubs and I grabbed two loaves and had a blast. Those quackers were hungry.
As always thanks for stopping by.
Party on.....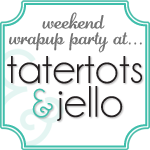 ">