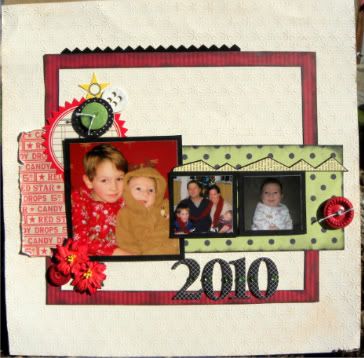 Thanks to
Sketchabilities
for the nice inspo. They have a really nice classic design for the current challenge. I used my favorite subjects for the photos...my bro's family. And this is also nephew #2's first Christmas. The layout's made primarily with Jenni Bowlin products including patterned paper, border & journal sticker, and buttons. With the addition of Thickers, paper poinsettias (from lss), chalk ink, rhinestones, baker's twine and a vintage button.
Now for a little news...I'm so excited! There's a new Anthropology in my neighborhood. I took a quick peek inside and now I know what all the hub bub is about. So many cool ideas came to me. Their displays are just awesome. Can't wait to see what's in store when the seasons change. But for now, I think I've come up with an idea for a Valentine banner. We'll see what happens.
Thanks for stopping by!