This is a blast from the past. Its something I made last year before I started my blog. Right now I'm working on a project that's got my mojo a little frazzled (plus I need to pick up a couple of supplies at the local craft store before I can finish this "monster"). But I didn't want you to forget me, so here's just a little sumpin', sumpin'....
You won't believe how fast this fedora comes together. The only thing that's time consuming is gathering your scrap supplies. This hat was a gift for my mom. She loves earth tones so that was my inspiration.
Scrapbook manufacturers are always coming out with new textures and mediums for us to work with and so many of the wonderful products out there can be transformed into wearable art. Now I wouldn't recommend that you wear your fabulous creation in the rain, but certainly it will hold up in nice weather.
Here's what I used for this project:
Straw fedora hat (on sale of course, $5.00)
ZVA flourish bling
Jillibean Soup twill
Maya Road ribbon flowers
Prima fabric/canvas flower
Basic Grey fabric flowers
Creative Imaginations flower brads
Beacons 3 in 1 glue
Fabric glue
Needle & thread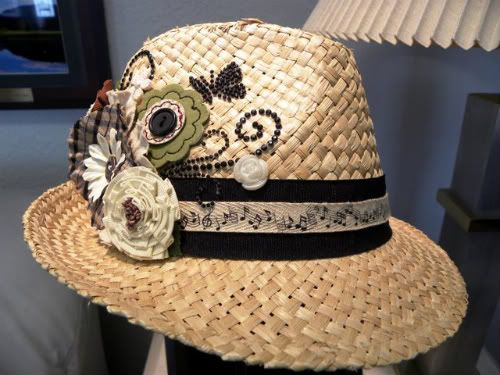 I started with attaching the twill on top of the existing hat band with fabric glue. Once that was set, I placed my largest flower down first then clustered the remaining flowers. Next I carefully applied 3 in 1 Glue to reinforce the adhesive on the ZVA bling flourishes for a little extra hold. And to reinforce the bling a little more, I added the Creative Imaginations "pearl" flower brads sort of on top of the flourish, as seen in the close up. A few stitches here and there to secure all of the sticky-backed flowers and BAM, you're done. Hope you get a little inspo so you can be a Mad Hatter too!
A view from the back...
And here's a little happy
music
to put a smile on your face.