Happy Sunday. I'm a sports fanatic and NCAA March Madness is in my house. Sweet 16, Elite Eight, love it. And its been crazy exciting this year. But on to scrappy business...
As you can probably tell by the extremely basic design of this blog, I'm not much of a computer whiz. I barely get by, but I'm "endeavoring to persevere" as Little Big Man would say. I thought I had random.org figured out, I got the widget, but couldn't get the generate number to stick. So the winner for my Paper Issues blog hop RAK is #10...
Aimee (aka carolinagirl) said...
Awesome layout!! And what a sweet looking little kittie!! Thanks for the inspiration!!
March 19, 2011 2:19 PM
Congrats Aimee! Please email me at kimbo848@aol.com with your info. Not only have you won a $10 gift certificate to Cassie's groovy
Paper Issues shop
, I added a little sumpin', sumpin' too. And this is it...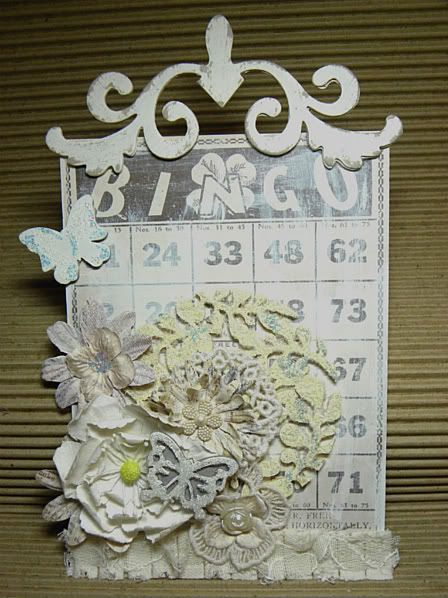 This was so much fun to make, it was kind of a departure for me. Shabby isn't easy for me but I love how this turned out.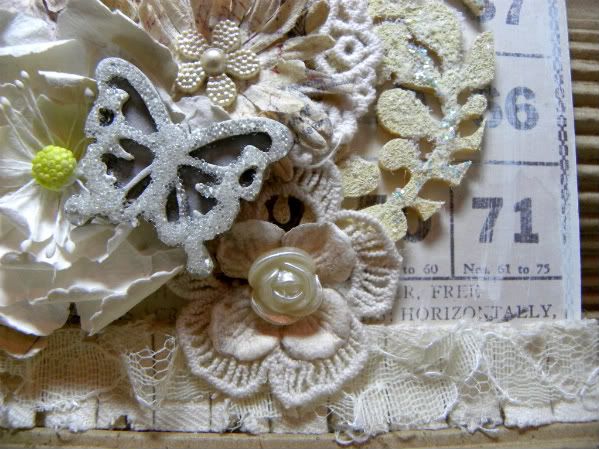 Some of the products used: Melissa Frances bingo card (one of my fave products), Maya Road chipboard, Prima flowers, Pink Paislee ribbon pleats, Creative Imaginations pearl flower brads, Martha Stewart micro beads, mini doilies, Stickles, distressed lace, a felt coaster, chunky glitter, and paint
Want to give a shout out to
Michelle Hernandez
, PI Creative Team, for coordinating the blog hop and remind everyone to keep linking your "favorites" to this
link
to be eligible for a great RAK from Paper Issues. Also, to all of the new followers (and "old"), thanks so much for your comments and encouragement. It means a lot to me.
Thanks for stopping by.