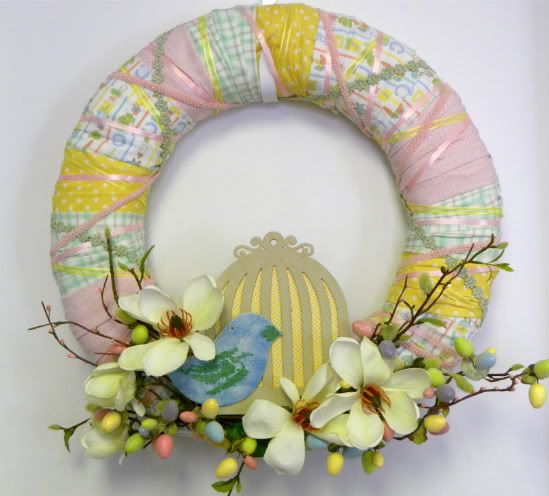 This time, its a wreath. I make lots of wreaths. And lately I've become bored with grapevine and flowers. So I tried something new (for me, anyways) using fabric. Just a note, this by no means is an original idea, I know its been around for a while. That being said, let's blast forward.
Supplies:
Styrofoam wreath form
Batting (optional)
Fabric (four different patterns, more or less, your choice)
Straight pins
Cords, ribbons, trims, raffia, etc.
Embellishments (such as small animals, flowers, party favors, etc)
Step 1
Wind batting around the wreath form. Note, this is optional. My form wasn't rounded, it was flat. I didn't like the "hard" edge so I softened it with batting. Simply pin a 5-inch wide strip wound all the way around.
Step 2
Carefully rip fabric strips that are 5-inches wide. Or you can use scissors to cut strips. Start wrapping the fabric around the wreath. I secured the first strip in place on the back side just to hold the first piece in place, gluing isn't necessary because the next fabric strip hold down the last. Alternate the patterns as you wish. I recommend wrapping loosely and incorporating folds. Random and a little messy add to the look.
Step 3
Once the form is completely covered, wind ribbon, cord, raffia, etc randomly one at a time. Criss cross each one. Again, loosely. These will probably need to be secured in back with pins.
Step 4
Embellish to your heart's content. I used a Maya Road chipboard birdcage and bird. Acrylic paint went on the bird along with a little microbeads applied with Diamond Glaze. The bird cage was painted with Tim Holtz Distress crackle paint (Old Paper), and October Afternoon Seaside paper. And guess what else I used? Makeup, specifically blusher. I wasn't at home when I made this project and didn't have all my supplies. Wanting to highlight the tiny paint cracks a little, I pulled blusher out of my purse. Hey, whatever works, you know.
h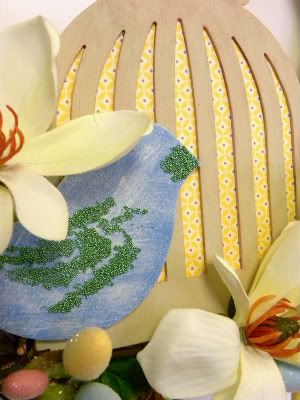 Hope this inspires you to try a fabric wreath. This was my first attempt, and it really came together pretty quick.
Don't forget to
link
your "Favorites" project to Paper Issues. Maybe you can win some swag. And wouldn 't that be nice.
Also, have you ever visited the
Flamingo Toes blog
? All of her posts this week have been wonderful tutorials about Anthropologie-inspired jewelry. I've really enjoyed these fabulous tutorials. Go check it out.
Thanks for stopping by.