Tutorial? I don't know. To me, its just a step by step of how I put this thing together. This was an eye opening project for me. Why? Because I realized that I've got to get my paws on some more Jillibean Soup paper. Yikes, my stash is LOW.
Before I get started I want to thank some folks out there for making my birthday very special. Thank you to Cassie for the waaay cool paper creation "Loo Love" that was stashed in my Paper Issues order. Thank you to the supremely talented Mandy Kay Starner for the sweet birthday card. Thank you to Tater Tots and Jello for featuring my fabric wreath. And thank you to Glitz for featuring one of my favorite layouts. I felt like I'd hit a grand slam last week (despite having a tummy bug). I value my virtual friends. They are my pals, my sisters, my inspiration. And to have my stuff featured anywhere, well, its a super ego boost. OK, so lets get back to business, shall we?
Here's my Jillibean Soup Easter topiary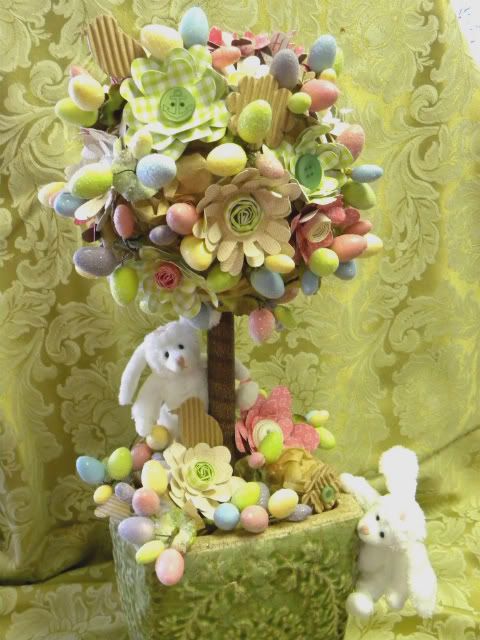 Step 1
Build your topiary using a styrofoam ball, extra hunks of styrofoam, dowel rod, and container. First, I covered the dowel rod with 7 Gypsies tape.
Step 2
Partially cover the ball with filler. I pinned sewing pattern tissue cut into 3-inch strips and lightly crumpled.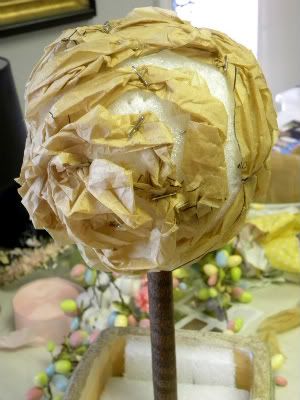 Step 3
More filler. This time its glittery mini egg garland. This adds dimension.
Step 4
Assemble flowers. I dusted off the Cricut and made approximately 32 flowers. There are so many tutorials out there for making flowers. Just use your favorite pattern or just open up a few packages of ready made flowers. I must admit, making these flowers was hard work, phew. So much so that me and my furry pal had to take a carrot break.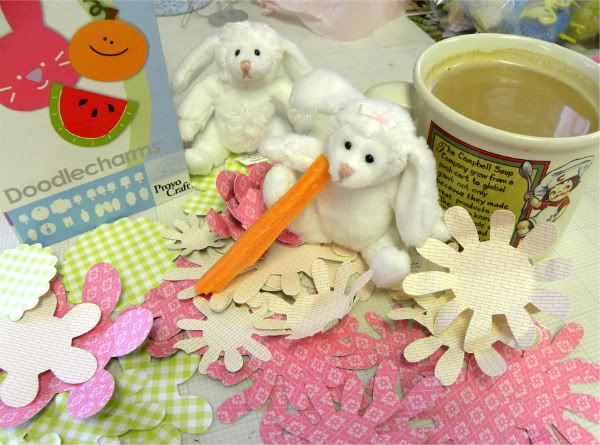 Step 5
I made a few centers for my flowers with paper scraps folded lengthwise, rolled and glued with fast drying Beacons. After the scraps ran out, I broke out some buttons.
Step 6
Apply the flowers to the topiary using floral pins. Add any little embellishments to finish out your look. Viola.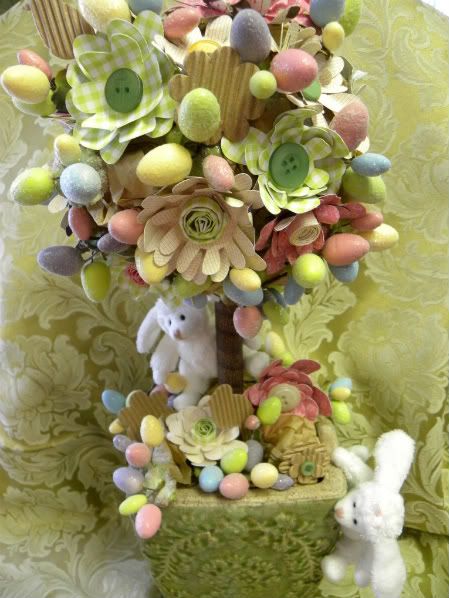 Some of the products used:
Jillibean Soup papers - Egg Drop, Grandma's Christmas, Coordinating Monster Stew
Jillibean Soup corrugated cut outs - birds and flowers
Cricut Doodle Charms
7 Gypsies tape
Beacons 3 in 1 adhesive
Well, that's it sports fans. I hope you have a brilliant weekend and as always, thank you for stopping by.