Paper Issues has a new link party,
Word to Your Mutha
. So I dug out my all time favorite layout. The photo is me and Mom at the 1998 Race for the Cure. At that time I served proudly as co-chair for the Survivor Committee. I'd completed a long, grueling treatment. The look on my mother's face brings a tear to my eye, even now. She means the world to me.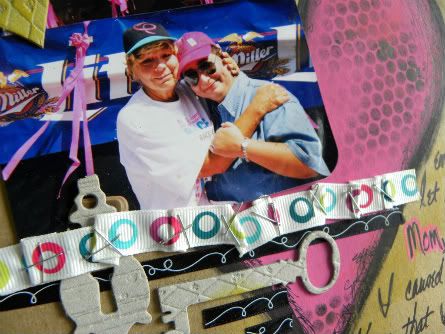 Next, I found a photo that's very special to me. Its not the best pic, but this is how I will always remember my grandmother. It was one of the last "good" days for her and she was blissfully happy. She's holding her great grandson for the first time. A timely blessing.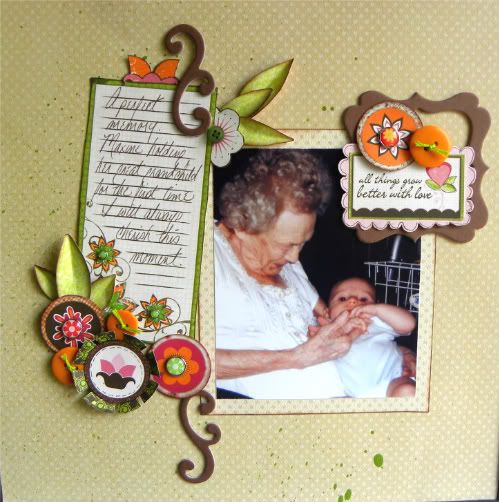 I decided to play along with BoBunny's current
layout sketch challenge
using this photo, Vicki B, and some other great BoBunny stuff.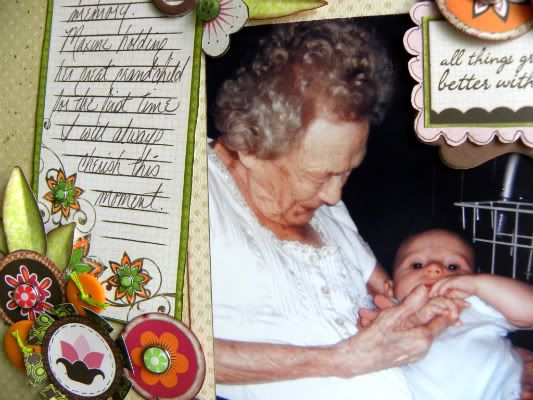 Products:
BoBunny Almond Dot (I love their dot papers)
BoBunny Vicki B Bazzillion paper
BoBunny Vicki B Cut Outs
BoBunny Chunky Charms chocolate
BoBunny Sun Kissed brads
buttons & embroidery floss
chalk ink
acrylic paint
Which brings us to wildfires. Hubs and I are chillin' out at a friend's timeshare condo on Lake Whitney. I'm about to make a batch of frozen margaritas and the skirt steak has been marinating all day long for fajita grilling tonight. For the last four days wildfires have taken a toll on thousands of acres west of Fort Worth about 70 miles. Lake Whitney is about 40 miles south from the fire. This is a view from our balcony. Its really smoky here. In town, you can smell the smoke in the air, even though its so far away. One volunteer firefighter has been killed. At least 30 homes have been destroyed. Cattle killed. And there's still no end in sight.
We are patiently waiting to find out if my hubs' family lake house is still standing. It's been in his family for 50+ years. He helped build it. Its old and run down but there's lots of memories there. Praying for rain and no more loss of life.